Starting with Windows 10 version 1803 (April 2018 update), Microsoft changed the behavior of camera app access setting so that it affects desktop applications as well.
History
2 Apr 2020: Reworked parts of the guide and included an additional step(5) to account for new options that where included in recent Windows versions.
9 Feb 2019: Updated the guide to include suggestion about turning on the camera for Win32WebViewHost app

18

May

2018

: Article published
To fix this do the following:
1. Go to Windows settings and select Privacy. Alternatively, type in Windows Taskbar/Startmenu Search: camera privacy settings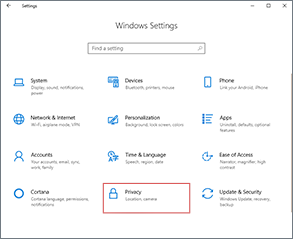 2. Select Camera on the left pane. Verify that it says "Camera access for this device is on". If it's off, press Change and toggle it on.
3. Switch on the "Allow apps to access your camera" toggle.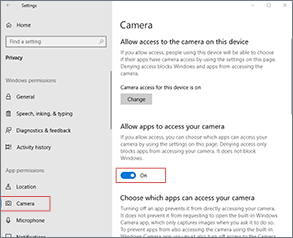 4. Under "Choose which apps can access your camera" check that Win32WebViewHost (later renamed as Desktop App Web Viewer) is turned on as some desktop applications will need it.
(Optional) To block apps access to camera you will have to toggle camera off for each app.You will have to do this after each new app you install. It's recommended that you do not turn off the camera access for

Win32WebViewHost

(later renamed as

Desktop App Web Viewer

) as some desktop applications will need it.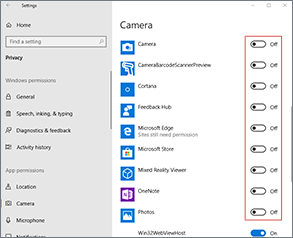 5. Scroll down and check if you have "Allow desktop apps to access your camera" section and turn that toggle on as well.
6. You will also need to the these changes for microphone privacy settings.
7. Restart those applications where you've wanted to use the camera or webcam.
If you still have problems, check Troubleshoot and fix camera or webcam problems in Windows guide.
Applies to Windows 10 versions 1803 (April 2018 update), 1809 (October 2018 update), 1903 (April 2019 update), 1909, 2004 and later, Windows Server 2019.
Useful for Skype, WhatsApp Desktop, Discord, OBS Studio, XSplit, Bandicam, Edge, Chrome, Firefox, Opera, Facebook Messenger, Zoom, Microsoft Teams, Slack, Cisco Webex, Twitch, Viber etc.
Useful for webcams and notebooks from Logitech, Microsoft, Dell, HP, Acer, Lenovo, ASUS, Razer, Genius, Trust.