1. Dynamic (fluctuating) volume when there are 2 or more active sound sources.

 
Description:  When playing a game and listening to music at the same time, the volume for either of the applications will fluctuate, for example the music volume will lower down when there is a high noise coming from the game (like explosions). 
I haven't found any fix for this except the workaround that's presented below.
Windows XP workaround fix
Set Windows Volume to 80%-90%. I noticed that this issue is only present when Windows volume(or panel volume) is above 80-90%. So my recommendation is to not exceed this limit.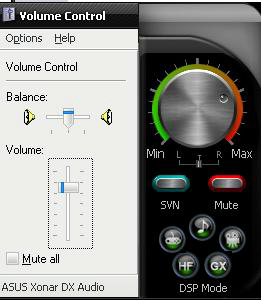 Windows Vista/7/8/10 workaround fix
Workaround here is slightly different from the one in WinXP, you'll have to set the volume in each application at 80% or below.  You can set Windows Volume to 100%.
Other notes for Xonar cards:

Please note that moving the mixer playback sliders in ASUS Audio Center above "76" or moving digital volume sliders in C-Media Control Panel above "0" dB will cause the same issues.
Applies to the following OS:
Windows XP, Windows Vista, Windows 7, Windows 8, Windows 8.1, Windows 10, Windows Server 2008, Windows Server 2012, Windows Server 2016, Windows Server 2019
Useful for applications like:
Aimp, foobar2000, Winamp, Skype, TeamSpeak,

Discord

, WhatsApp, Steam voice chat, OBS Studio, XSplit, Bandicam, Adobe Audition, 

Audacity, ocenaudio, Edge, Chrome, Firefox, Opera, Facebook Messenger

etc.
Useful for sound cards like:
ASUS Xonar DG, Xonar DGX, Xonar DG SI, Xonar DS, Xonar DSX, Xonar D1, Xonar D2, Xonar DX, Xonar D2X, Xonar HDAV, Xonar HDAV Slim, Xonar Essence ST, Xonar Essence STX, Xonar Essence STX II, Xonar Xense, Xonar U1, Xonar U3, Xonar U5, Xonar U7, Xonar AE 7.1, Xonar SE, Xonar EssenceOne, Xonar Essence STU, ROG Xonar Phoebus, ROG Thunderbolt and Xonar D-Kara
C-Media CMI8786, CMI8787 and CMI8788 audio chip based cards: Auzentech X-Meridian & X-Meridian 2G; HT Omega Claro, Claro Plus, Claro II, Claro Halo, eClaro; Razer Barracuda AC-1; AIM Audio SC8000
ASUS Strix Raid and Strix Soar; ASUS SupremeFX;
Creative Sound Blaster Z, Sound Blaster Zx, Sound Blaster ZxR, Sound BlasterX AE-5, Sound BlasterX AE-9, Sound BlasterX G5, Sound BlasterX G6, SXFI AMP and Sound Blaster Audigy.
Realtek ALC1220, ALC1150, ALC880, ALC882, ALC883, ALC885, ALC886, ALC887, ALC888, ALC889, ALC892, ALC898, ALC899
EVGA NU Audio and NU Audio Pro
This page is only for discussing the problems and solutions described above. For general help with Xonar cards, comment on the main UNi Xonar page.